Can we talk?
(NOTE: This post was originally published in 2018)
It's safe to say that the Mixtroz brand did not get off to the most auspicious start. Ammons remembers, "We'd come-up with dozens of name combinations. Any number of which involved the word Intro. I dreamed the word Mixtroz, which combines 'mixer' with 'introduction,' and I added the Z because I love how Sara Blakely ended the Spanx brand-name with that funky consonant.
"I was so excited, I called my mother (Schrader) at 6 in the morning to tell her." She pauses and smiles apologetically at Schrader. "I'd forgotten she normally wakes up at 7, and that I was an hour ahead of her."
"And," Schrader interjects, eyebrows arched, "that my landline is normally reserved for family emergencies."
"So no," Ammons concludes, "I didn't get the reception I was expecting."
What's the big idea?
Mother and daughter were already convinced their app concept was a winner. Mixtroz facilitates personal connections (or, as they like to call them, "collisions") at events with 25 people or more — often where attendees don't know one another. And while their programmers are developing a self-directed SaaS functionality, the process now starts with Ammons & Schrader assisting event organizers — with whom they'll generate 10-question surveys, which are then distributed, through the app, to event attendees.
Attendees' answers to those questions will then determine how they're organized, in real time, into small Connection Groups of 3 to 10. Mixtroz's proprietary algorithm also enables event organizers to determine levels of group diversity. The app then shows each attendee where (and with whom) they'll be networking. Once group members are assembled, the app even provides icebreakers to kick-off conversations.
Take a sad song and make it better.
Just in case the irony escaped you: Mixtroz is using technology to undo what legions of detractors believe technology has done to "the smartphone generation's" interpersonal skills. "The basic idea, of course" Ammons says, "is to help people connect. Not just on a name basis, but through things they share in common. There are a lot of social platforms for people to connect, but there was no tool to 'force collisions' — bringing people together in real time."
Early reviews have been extremely encouraging.
"95% of our business has been through word-of-mouth," says Ammons. Since they launched the app in early 2017, it's been used by Vanderbilt Medical Center, HCA, Deloitte, Pinnacle Bank, Middle Tennessee State University and the Nashville Chamber of Commerce — to name a few of their higher-profile fans; which includes Georgia Tech Business School professor Tiffany Johnson, who booked Mixtroz to form groups for semester projects across six sections of a course she teaches, with 180 combined students.
"Every time I launched the process," Johnson recalls, "you could hear the volume in the room go up, as the students began engaging. The process was so much easier for me as the administrator — and it was a lot more fun putting the groups together. Out of 30 plus groups, very few reported interpersonal issues — so I would definitely say it was a success for me."
Experience? Who needs experience?
"We first had the idea for Mixtroz in November of 2014," says Schrader — who, shortly thereafter, gave up a successful Human Resources career in Nashville. "Neither of us had any background in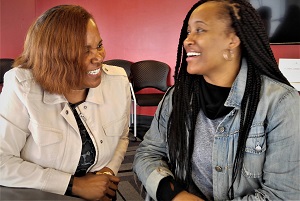 technology, neither of us had ever been an entrepreneur before — and we had no idea how to get a prototype made. But that's part of being an entrepreneur. Figuring it out."
By March, 2015, they had a wireframe to show investors — and in June, 2016, Ammons left New York City (where she'd spent seven years building her own career as a much-in-demand event producer) to join her mother full-time.
They've since raised $250,000 — including $50,000 from Birmingham's Velocity Accelerator program (at Innovation Depot), which they're both attending. "It's not a lot, says Schrader, "but we've been great stewards of the money people have entrusted to us." The remaining $200,000 came from friends and family — all of whom, Schrader notes, "invested because they believe in us."
Making headlines
The concept has also generated more than its share of media coverage. "We've been in Forbes twice," says Ammons. "We've been profiled in Hypepotamus, and we've been on Sirius Radio." They're even starring in their own episode of a new A&E series, "Rooster & Butch", which airs next Wednesday night, February 21, at 9 pm. (PLUG: The duo is hosting a premier party that evening, in their Velocity Cohort space, to celebrate. CLICK HERE for tickets!) .
Past media coverage has invariably included the Racial Heritage angle. "As if," Schrader rolls her eyes, "it's an amazing thing that two black women could be running a technology company!" Of course, Ammons admits, they have played that very angle to their advantage. Consider how they first learned about the Velocity Accelerator program — which is part of the Global Accelerator Network (GAN).
Now that's marketing ROI.
"Last year, we exhibited at a technology conference in New Orleans called the Collision Conference, and we were both wearing t-shirts that read 'Black. Female. Founder. FUND ME!' (with 'Got Seed?' on the back). That's how we met Velocity's new Executive Director, Beth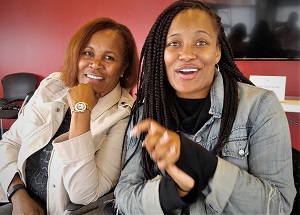 McKeon. She introduced herself, we told her about Mixtroz, and she later encouraged us to apply to the program. We had no idea what a big deal this is," she continues — noting that only 2% of applicants are accepted in GAN accelerators. "We certainly never dreamed our $12 t-shirt investment would pay such incredible dividends!"
The accelerator program, Ammons continues, "is like a condensed Executive MBA. It's been such a gift to be forced to stop, reflect, and analyze what we're doing." Schrader agrees. "One thing we've both learned is not all activity yields results. 'Busyness' does not necessarily equate to success."
Looking ahead
Schrader will admit to occasionally allowing stress to build up. "My husband retired 16 years ago so I could fast-track my Human Resources career. Now there's nobody at home generating a regular paycheck. That's led to more than a few nights grinding teeth in my sleep — so one of my new mottos is, 'Pray more, worry less'."
All of which is why Schrader and Ammons both particularly appreciate the singularly-validating vote of confidence that comes with acceptance into the accelerator program. Not to mention the focus that's being applied to their proverbial end-game. "We've talked a lot about positioning ourselves for sale, two to five years from now, to one of the large players in the event technology space," says Ammons. Any companies they've discussed by name? Reality TV's next potential Super-Co-Star pauses and smiles. "Stay tuned."

KNOW SOMEONE I SHOULD PROFILE (including yourself)?
Click Here to contact me. Thanks!