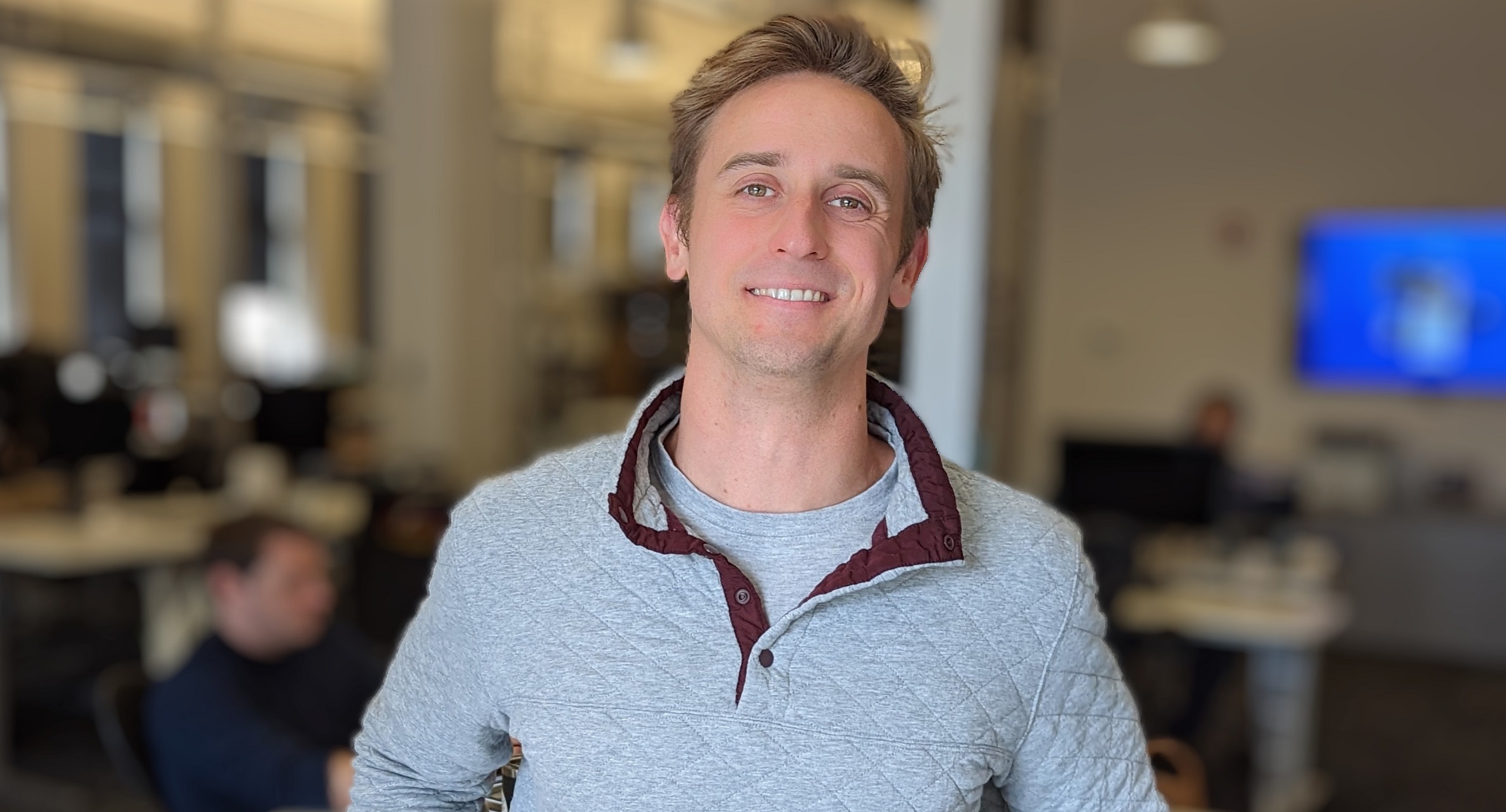 Let's Talk About You.
Day One of SlossTech 2019 at the Lyric Theatre is drawing to an end. Linq co-founder Elliott Potter and his partners, Jared Mattsson & Patrick Sullivan, had the very first slot on the schedule: Ten minutes at 9:15 to lead an "activation" of their product for anyone who's interested. Turns-out a lot of people were interested. So many, in fact, that Linq's system — which the three had spent most of the night before preparing for the event — has reached capacity. And broken.
Sloss's keynote speaker, Reddit co-founder Alexis Ohanian, has just finished addressing a packed house — and invites questions. Elliott, in the balcony, raises his hand and asks, "So, Alexis. When're you going to start investing in companies outside Silicon Valley — like, maybe in Birmingham, Alabama?"
"Ohhh-Kayyy," Alexis replies, "What's your name..Elliott? Elliott, I can see your t-shirt says Linq. Why don't you pitch Linq to me? Right now."
He's joking, right? He's not joking. All eyes are on Elliott, who — by now — is running on caffeine, adrenaline, and little else. He stands on his seat, takes a breath, and begins.
"Remember when you met Serena?" (That's Serena, as in Williams, Alexis's wife.) "Don't you wish you'd had a better way to give her your number at the time?" The rest of Elliott's pitch is as good as the hook, earning him a thunderous ovation.
On the whole, it's been a pretty good day.
The Entrepreneurial Bug's First Bite
It's April 2017. Elliott, two years out of school, is on the verge of trying to build a career on his Music Business degree, when high school buddy Charlie McLaughlin (Shipt's 4th employee ) reports that the company is about to pivot to grocery delivery — and, oh-by-the-way, "[Founder] Bill Smith is really smart."
"I guess it was Charlie's confidence that convinced me not to move to Nashville. So I applied for Shipt's open position in Customer Service." You'd have to think your prospects are pretty good when you come recommended by one of the company's first hires. Nope. Elliott's application is rejected. Soon afterward, Shipt's hiring manager calls to tell him he's created a new position with Elliott in mind: City Launch Director. Which, of course, he accepts. "That's when I fell in love with the scrappy, problem-solving culture of an entrepreneurial company."
Before long, 22-year-old Elliott is managing a City Launch team, Charlie is working on making sense of early customer data, while future Linq cofounder Patrick Sullivan is programming software for Smith's new concept. "Bill told Patrick he needed a software system that would enable customers to order groceries, then alert Shipt Shoppers to select and deliver those groceries. Patrick did both in one weekend. It didn't look good, but it worked.
"Patrick and I," he continues, "are a perfect balance for each other. He's an introvert." And Elliott, most emphatically, is not. Which is why he was hired to launch new cities for Shipt — and then to host a video series called "The Shipt Show" which, interestingly enough, was co-hosted by Elliott's decidedly introverted friend and partner.
As host, Elliott's job includes prompting Patrick to discuss updates to Shipt's platform, as well as traveling to cities around the country — where he interviews Shipt customers for the video series.
Moving-on from Shipt
Elliott's thoughts of life after Shipt start taking shape after Smith's well-documented December, 2017 sale to Target (for $550 million) — and his subsequent exit from the company. He and Jared Mattsson (college roommate and Shipt's Partnership Manager), build a growth-marketing tool they call Sidekiq.
"The problem we set-out to solve," Elliott explains, "had to do with how much better in-person encounters are in conveying what you do. We wanted something that would communicate a lot more than you can put on a LinkedIn profile. And would inspire people to follow-up with whatever next step you want a potential business relationship to take
"Then we asked ourselves, 'What if you could connect people to all of your information — presented in a way that really reflects who you are — with something as simple as a QR Code?'" When they have that breakthrough, Elliott, Jared (and now Patrick) — build the software prototype in one night.
Linq gets real
Over the next several months, the response to their concept is consistently strong enough to convince them they're onto something. That's when Elliott convinces his buddy Will Lochamy to give his company — now called Linq — the aforementioned slot at SlossTech.
Two weeks later, across the room at a party, Elliott spots Matt Hottle and Mickey Millsap, co-founders of Redhawk VC. He introduces himself and, of course, Linq — leading Matt to ask, "How're you going to monetize that?" Well, Elliott answers with no trace of irony, "We're going to take-over LinkedIn." Not surprisingly, his answer triggers hearty guffaws. At the same time, Elliott's confidence and conviction has its intended effect.
Over the next two months, Matt & Mickey lead their new Linq protégés on an angel investment round that generates half a million in funding — and suddenly, Linq is a real company with its first full-time employee. Namely, Elliott. "I left Shipt in September 2019. Jared joined me in October, and Patrick came on board the following February."
An unexpected windfall
Shortly thereafter, Linq gets a significant jolt from the pandemic and the ensuing lockdown. "That led to a huge influx of orders, so we started hiring." Staff additions included friends of Jared and Elliott's from Lee University, as well as Elliott's sister Barrett Bisognani — who now has an extension of the role she had at Shipt, as Head of Customer Service.
Linq's current staff of 27 includes one of Elliott's oldest friends, (Operations Manager Sam Holloway), and his former boss at Shipt — Ross Steinhilber. "We have people who moved to Birmingham from several other states, and one person who works remotely from Vietnam. And yes, I can honestly say that some of the brightest people I know are working with us."
As with any fast-moving startup, Elliott admits that relationships can become strained at times — but notes, with genuine pride, Linq's consistently positive company culture. "Some startups are really serious. That's not us. We have a lot of fun."
Serious outside interest
In addition to Hottle's ongoing relationship with the company ("Matt and I meet regularly every two weeks"), Linq now has a proverbial Silicon Valley Heavyweight investor / advisor in Mucker Capital partner Omar Hamoui — who founded AdMob, which he sold to Google for $750 million in 2010.
"Omar has seen practically everything entrepreneurs can experience. It goes without saying, this guy has serious chops, but he's also very kind and approachable."
Not surprisingly, says Elliott, Omar himself has a great Only In Silicon Valley story. "One day when he was entertaining offers for AdMob, he answered the phone and hears, 'Hi, Omar. This is Steve Jobs.' Yeah. Right. Click. Two minutes later, his assistant walks-in and says, 'That really was Steve Jobs, and if you hang-up again he's not calling back.'"
Coming full circle
One of the great lessons Elliott and his partners have learned in the last four years is focus. "The more we've grown, the more we've increased our ability to broaden the scope of what Linq is, and what it can do for our users." But after countless ideas for new iterations, the team concluded that its original concept was the best all along.
"We give users an innovative way to enhance their own storytelling ability. When you sign-up for an account, we send you a digital business card. All you have to do is hold your card to someone else's phone, and it automatically takes them to your profile page."
Targeted primarily to business users and other entrepreneurs, Linq offers three levels of features and support: In addition to a basic free account, users can opt for two paid tiers: Linq For Teams and Linq Pro.
Looking ahead
Linq's subscriber base, and its revenue, have grown enough that Elliott projects doubling staff size in 2023 — but he's quick to offer this disclaimer: "We've always been extremely capital-efficient in our expansions, and we intend to stay that way. The last thing we want to become is just another West Coast Burn Machine." Sounds like the hook for a pretty good investor pitch.
KNOW SOMEONE I SHOULD PROFILE (including yourself)?
Click Here to contact me. Thanks!