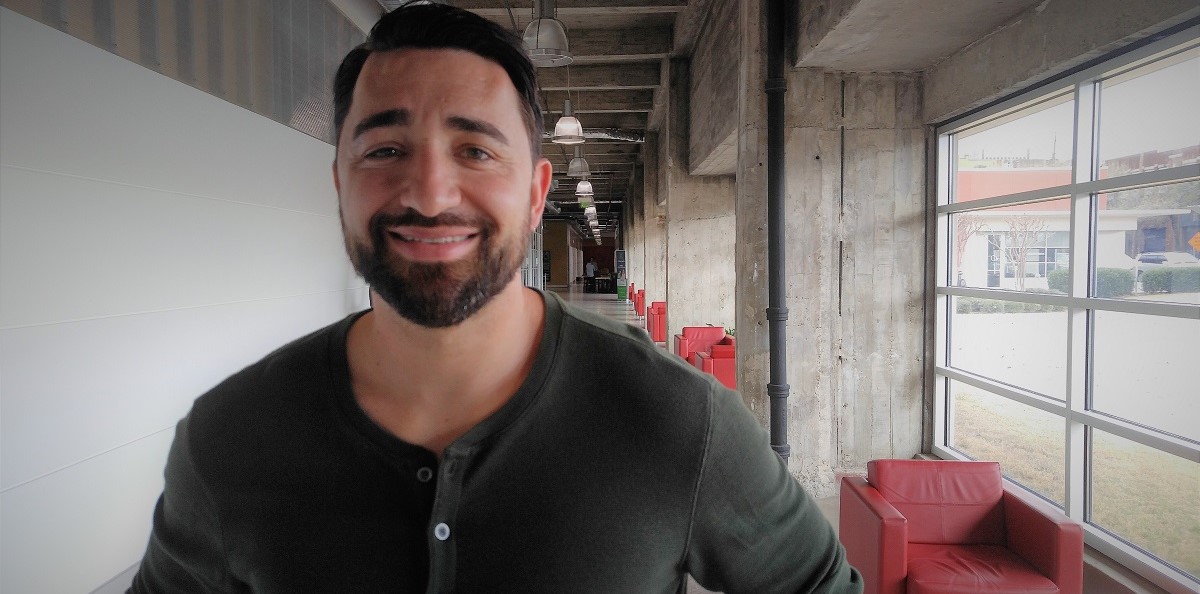 Self-Made Man? "Hardly."
(NOTE: This post was originally published in 2018)
The single most important career and life decision Jim Cavale ever made was to transfer from Ithaca College to the University of Montevallo. He still remembers the moment. "It was after normal business hours in my baseball coach's liquor store. Which he still owns, and sleeps in, every night."
Cavale pauses briefly, while that last thought hangs there. OK, your college baseball coach owns a liquor store. Why does he sleep there? "To protect the place." Naturally.
Back to our main story. "I'd enrolled at Ithaca to play baseball, but I wasn't playing much — so I went to talk to the coach. He called his buddy Bob Riesener at Montevallo" —  still, BTW, the winningest baseball coach in Alabama college history. "Coach asked Riesener if he'd give me a shot, and I got a workout on August 2nd, 2002."
Four days later, Cavale got a call from Montevallo: "You're on the team. Be here in 2 weeks."
A swing, a miss, a hit
"So," Cavale continues, "my father gave me a plane ticket, and I headed to Alabama with no car and no phone." It didn't take him long to realize he'd made a mistake. About baseball. Which is why, he says, "If it wasn't for Montevallo, I wouldn't be here today. Because that's where I learned that my true passion was for entrepreneurship." Cavale's first endeavor? Building the school's television and radio network.
"They had the equipment. Streaming technology was just emerging. And nobody was covering Montevallo's sports teams. So I served as Talent, Engineer, Advertising Department and Video Editor. I filmed Montevallo's games and provided commentary while I was filming. I bought an Apple computer, learned to edit — and after games, when my friends went out, I'd go to my dorm and edit the footage. For a typical game, that would take me 5 to 6 hours."
Cavale would then burn the final product to DVD, pop the disc into a player that streamed online, and set the player to repeat all day.
The bigger picture
"People started watching the broadcasts. In part because our baseball team was such a great story. A lot of our players were there on second chances — after losing their scholarships, for whatever reasons, at other schools. That year, we went all the way to the Division II Elite Eight.
"A lot of these 'second chance' players had grown up in the projects of Bed Stuy [Brooklyn's Bedford–Stuyvesant]. I became interested in them personally, so I went up there to learn about their lives." That led to a documentary he entitled The Montevallo March To Glory. Cavale's first attempt at filmmaking earned a Top 30 ranking in the 2004 Ivy League Film Festival.
Now it's a real business.
After graduation, Cavale moved to Birmingham. Given his experience with the TV station, and his ongoing interest in college athletics, he pitched the Gulf South Conference commissioner on the idea of using streaming technology for all of their schools. "Remember, these are small schools that were rarely on television, so I figured there'd be a lot of interest among their fans in seeing their games."
Cavale was offered a deal paying him $500 a month. "That was enough revenue to give me confidence that I could sell the opportunity individually to the conference's 14 Schools, and to other small schools like Samford. I named my business Eporro, which is Latin for The Next One." The company evolved into a content provider serving small school recruiting, through which high school athletes could upload their videos for schools to review.
It could have been worse.
Along the way, Cavale made what he considers a huge mistake. "Schools were using my service on a subscription basis, and I had a good source of steady revenue. But I gave up the subscription model to go with an ad-supported model. Which was really dumb. You don't replace a recurring revenue model with advertising unless you're absolutely certain you have a lot of advertisers."
Fortunately, a larger recruiting service needed Eporro's technology — and made him an offer. "I didn't make much money on the deal," he says, "but at least I saved myself from a really dumb decision."
There's an idea – –
Less than a month later, Cavale struck-up a conversation with Forrest Walden — who ran the gym where he worked-out. "I asked him if he'd ever thought about turning it into a national brand." After all, Birmingham had already produced a number of regional brands — including Taziki's, Yogurt Mountain and Zoe's.
"I really didn't think of myself as a franchise guy, but I believe that's where God led me." After much conversation, "Forrest challenged me to open a second location at least 10 miles from his — with the idea that, if it went well, we'd go forward from there." The second location went well. Shortly thereafter, Forrest's father-in-law (Express Oil Change founder Ricky Brooks) became an investor. From 2012 to 2016, Cavale and Walden expanded Iron Tribe Fitness to 47 locations from Seattle to Miami. "Forrest and I were a perfect yin and yang. I have the big personality, whereas he's a much more analytical, calculating type."
Life-changing advice
In late 2016, Cavale sold his interest in the company. "After that, I had multiple mentors advise me to take my time before getting into my next venture. I also got a piece of advice from Tommy Brigham that I really took to heart. He told me, 'Volunteer. Give back. You'll end-up getting into something else soon, and you'll always be glad you did this first.'"
That's when Cavale approached the program director at Aspire with the idea of scaling-up its operation. The organization pairs fatherless inner city kids with a single mentor each, from 4th grade through High School (that's a 9-year commitment, for those of you keeping count). The organization now serves 1000 boys and girls — double the number from 2016 . Cavale also got involved with the Brother Bryan mission (of which he says, "That experience changed me more than I changed anyone.") — and offered his services as an in-house mentor to Innovation Depot CEO Devon Laney.
"All I did from September 2016 to February 2017 was Aspire and Innovation Depot." He pauses. "Oh, and I helped my wife Yazmin launch her business" — the Glow app, which connects beauty professionals to women seeking hair, makeup or spray tan services.
Another business takes shape.
In his spare time, Cavale developed the idea for his current venture, INFLCR. "I'd always wanted to stay in sports. I'd always been interested in technology. And I became aware of how social media can be a problem for brands to reach their markets with the right voice and tone. The more I thought about it, the more I realized that brand ambassadors are golden for sports organizations. So I developed a concept whereby sports organizations could support their brand ambassadors through a technology platform.
In February, 2017, Cavale hit the road — visiting existing contacts, in his sports network, around the country. "We didn't have the INFLCR product just yet, but we had a brand, and a clear enough pitch to determine whether the market would be willing to pay for it.
"My goal was to sign up, within three months, one client with a five-figure minimum contract. Our first customer was Kentucky Athletics. They had a real vision and understanding of the opportunity. After that, we signed up Auburn and UAB — and I hired Lauren [Kendrick], my first engineer." The company now has 3 full-time engineers on staff.
So what does it do?
INFLCR is a SAAS product that aggregates all of an athletic program's brand ambassadors and accounts into one platform — where the program can provide its ambassadors with media, stories, photos and video to use in their social media posting. "The platform combines acquisition with publishing and the means to measure the total lift a brand gets from their ambassadors."
"Once we launched our first version, we started listening to our clients for feedback. Now we have a much more robust video compressor for videos that are over a Meg in file size. We've also created text pass-throughs to use with photos — so ambassadors can easily hashtag posts." Since then, INFLCR has signed deals with Miami, South Carolina, Troy and the Gulf South Conference.
Looking ahead
"Our next milestone is to expand from the current roster of schools to 50+ clients, with a million dollars in annual recurring revenue. We're raising a million in capital and adding several cool new jobs. We've hired some extraordinarily talented people from New York and Miami, at senior levels in the organization, and I'm really excited about that."
A new man inside
Cavale pauses to reflect. "Here's the thing about who I am now. My identity isn't tied to this business like it was with Iron Tribe. Moving forward, one of the things I want very much to do is reinvest in the local entrepreneurial community. At the same time, I want to continue expanding Aspire.
"Look at the huge rec center Hoover recently opened for kids. I'd love to build one like that in the downtown area. At Aspire, we're already preparing kids for everything from trade careers to entrepreneurship. With the rec center, we could even develop other kids into scholarship athletes. These kids have really become my passion. I don't think of them as lost causes.
"If you asked me," Cavale concludes, "there's no such thing as a self-made person. I can tell you all day long about people who impacted me. That's why I want to be in a place where I can help impact others." And as Jim's own experience proves, life-changing impact can come any time, any place. Even after-hours, in a one-man live-in liquor store.
KNOW SOMEONE I SHOULD PROFILE (including yourself)?
Click Here to contact me. Thanks!